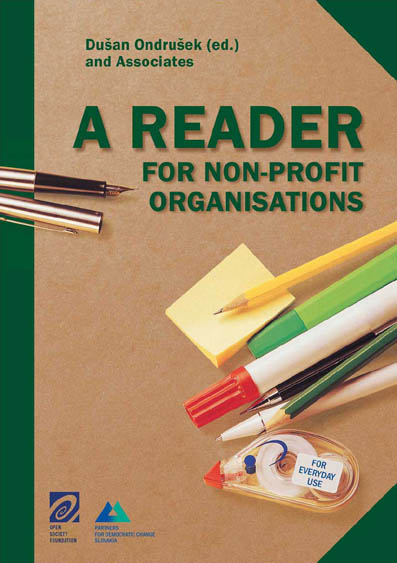 A Reader for Non-profit Organisations
A Reader for Non-Profit Organisations, which we have published in two editions, and A Reader for Advanced Non-Profit Organisations, which we published a year ago, have been the subject of exceptional interest, not only in Slovakia, but also in the Czech Republic. A number of positive responses have indicated the appetite for this type of publication. And no wonder. The civil sector is one of the most rapidly developing elements of society in post-communist countries, and is enjoying a growing influence. The non-profit organisations of today are very different to their antecedents, established decades ago. The people who make up non-profit organisations are maturing; the level of education and demand for information possessed by people whose professional and human interests correspond to those of the third sector are increasing markedly.
This publication is intended primarily for the community of people working in the civil sector of Central, Eastern, and Southern European countries. It is a book for both beginners and experts. It is intended for people who are curious, who like to think independently, and who value questions as much as they do answers. This is not recommended reading for a lazy reader – it rarely provides complete solutions. More often, as a kind of extension to an overview of the facts, it presents opportunities and invites you to contemplate them; on occasion, it also presents stimulating questions or pointers that may lead to other findings and further questions. It is concerned with crucial and sometimes rather intricate issues, and this is reflected in its style and occasionally sophisticated language. Even the illustrations are intended to pose stimulating questions, rather than provide all inclusive answers to them.

Every chapter essentially forms a compact whole; each of them may be read individually and in any particular order. However, reading this book from top to bottom is recommended, because it gives the reader the opportunity to discover the parallels that emerge from the clarification of the same phenomena as viewed from different angles. Most of the chapters contain a 'Terminology Corner'. This book has no ambitions to be an encyclopedia; however, the usage of certain terms in the third sector is so diverse that the explanation of terminology by way of introduction is essential to ensure the book's overall intelligibility. The lists of recommended publications at the end of some chapters are aimed at those who are interested in learning more about specific approaches or obtaining further information. The four documents listed in the appendix are cited for similar reasons. Those sections of the book that provide specific examples, case studies, and key charts have been set out in boxes. Exercises designed to stimulate discussion have been set out in boxes with a grey background. Some people will only read the boxes, while others will skip over them completely. The text and the boxes are set out in such a way to ensure that even unsystematic readers will be satisfied. On the other hand, the following overview and justification of the system according to which individual chapters have been arranged will also satisfy our more systematic readers.
How to quote us
BÚTORA, Martin at all. 2001. A Reader for Non-profit Organisations. Bratislava: PDCS, 2001. 259 p. ISBN 80-968934-0-8.
Would you like to contact us?

Are you interested in our services and you would like to establish cooperation with us? Are you looking for project partners in the topics we deal with? Contact us.

PDCS

Partners for Democratic Change Slovakia

---